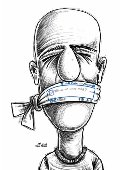 On World Press Freedom Day, Cartooning for Peace publishes
its first 2016/2017 report on the situation of cartoonists around the world.
Whether their cartoons deal with politics, economics, sport or religion, cartoonists face the same threats as other types of journalists who cover sensitive subjects.
Whether they are victims of censorship, legal proceedings, unfair dismissal, physical assaults or imprisonment, the threats that hang over the cartoonists inform us about the status of democracy at times of insecurity and troubles.
In an international context in which freedom of expression is under frequent attack, it is crucial for cartoonists to express themselves, to share in their experience and recount their struggles. In doing so, they will help us to not close our eyes on what is going on around the world.
"Most importantly, let's not give up. We should never abandon the principles of the Universal Declaration of Human Rights: freedom of expression is one of its pillars, freedom of the press one of its emanations." Vladimir Vasak, Board member of Cartooning for Peace, Investigative reporter ARTE. Cartooning for Peace Report