Fun Finance™ is for everyone. Our first crowdfunding campaign raises money for a financial dictionary specifically for young people.
Lilah was created by the clown and cartoonist Isabell Hemming to introduce finance to young people. She is W-T-W.org's "Finance Expert" and will explain complicated terms in clear and fun presentations.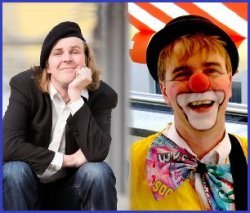 Isabell Hemming, a superb cartoonist. She charms all the young people she meets and has a light touch whenever she instructs. Her characterization of Lilah as she teaches finance will reflect all of her wit and delight in learning.

Mopf, also created by Isabell, is very famous in Germany for campaigns on behalf people with Multiple Sclerosis. Whatever Isabell touches and creates succeeds.
Dagmar Frank created the w-t-w.org website for women and finance. They focus on financial literacy with a deep database of relevant news articles and cartoons. W-T-W.org Team have won awards for education in finance.
Funds raised by this campaign will help create many instructional videos with Lilah.
"Finance Expert Lilah" for Fun Finance™.
Help choose finance terms you would like defined.
Just write and make a suggestion:
lilah@w-t-w.org
Skye me: wtwlilah
@Lilahfinance
If you help make crowdfunding a success we will send you a signed rose picture to say thank you.

W-T-W.org was launched to reach women around the globe and inform them about crucial issues that concern finance. We have focused on financial literacy, entrepreneurs and corruption. With our partner, the gifted German cartoonist, Isabell Hemming, we are developing an animated dictionary of financial terms for young people. Our plan: to launch the dictionary on YouTube, available to all young people in a form they enjoy. As the dictionary is developed, we will offer it in other languages. We welcome suggestions from our many friends and colleagues who are experts.
Contribute to the Fun Finance Campaign for Financial Literacy
Visit my German Site
W-T-W invites you to participate.